Difference between revisions of "Croatia"
Jump to navigation
Jump to search
---
Revision as of 05:23, 13 December 2010
Croatian Local Chapter
This is official wiki page of Croatian Local Chapter members. From this point onwards, the page will be in croatian.
Hrvatska skupina korisnika
Ova wiki stranica predstavlja pokušaj organizacije korisnika slobodnog geoinformatičkog softvera i otvorenih standarda u Hrvatskoj. Bilo kakav rad ili aktivnost vezana uz organizaciju Hrvatske skupine korisnika je volonterski.
Misija
okupiti korisnike i napraviti registar znanja kojim raspolažu
popularizirati slobodni softver u geoinformatici i upotrebu otvorenih standarda

promocijom na konferencijama u obliku štanda, postera, predavanja, radionica
objavljivanjem vijesti i kratkih vodiča na portalu http://hr.osgeo.org
lokalizacijom softvera i dokumentacije

omogućiti lokalnu podršku i umrežavanje (eng. netwokring)

na wikiu voditi registar tvrtki i korisnika koji koriste slobodni softver kao i popis softvera koji koriste

organizacija predavanja i radionica
pripremanje case study dokumenta i proof-of-concept aplikacija koje koriste slobodni softver i otvorene standarde
Organizacija
na OSGEO wiki stranicama se zapisuje sve vezano uz aktivnosti Hrvatske skupine korisnika, npr. održani i planirani događaji
diskusija oko organizacije Hrvatske skupine korisnika biti će na mailing listi http://lists.osgeo.org/mailman/listinfo/croatia
svi koji žele mogu zatražiti korisnički račun na http://hr.osgeo.org portalu kako bi pisali vijesti ili kratke vodiče
Aktivnosti
Održane
25-27.11.2010 - 6. konferencija Kartografija i geoinformacije

Ekosustav slobodnog softvera u geoinformatici - prezentacija - Dražen Odobašić
Planirane
Prevođenje grafičkog korisničkog sučelja za QGIS ([1]). Prevedeno 90% GUI-ja.
 ?
Korisnici
Dražen Odobašić
Zoran Janković
Dejan Gambin
Mario Miler
 ?
Kratki vodiči
Kratki vodiči zamišljeni su kao upute koje rješavaju specifičan problem. Popis svih objavljenih kratkih vodiča.
Infrastruktura
Ostale aktivnosti "Open"/"Geo" zajednice
PROJEKTI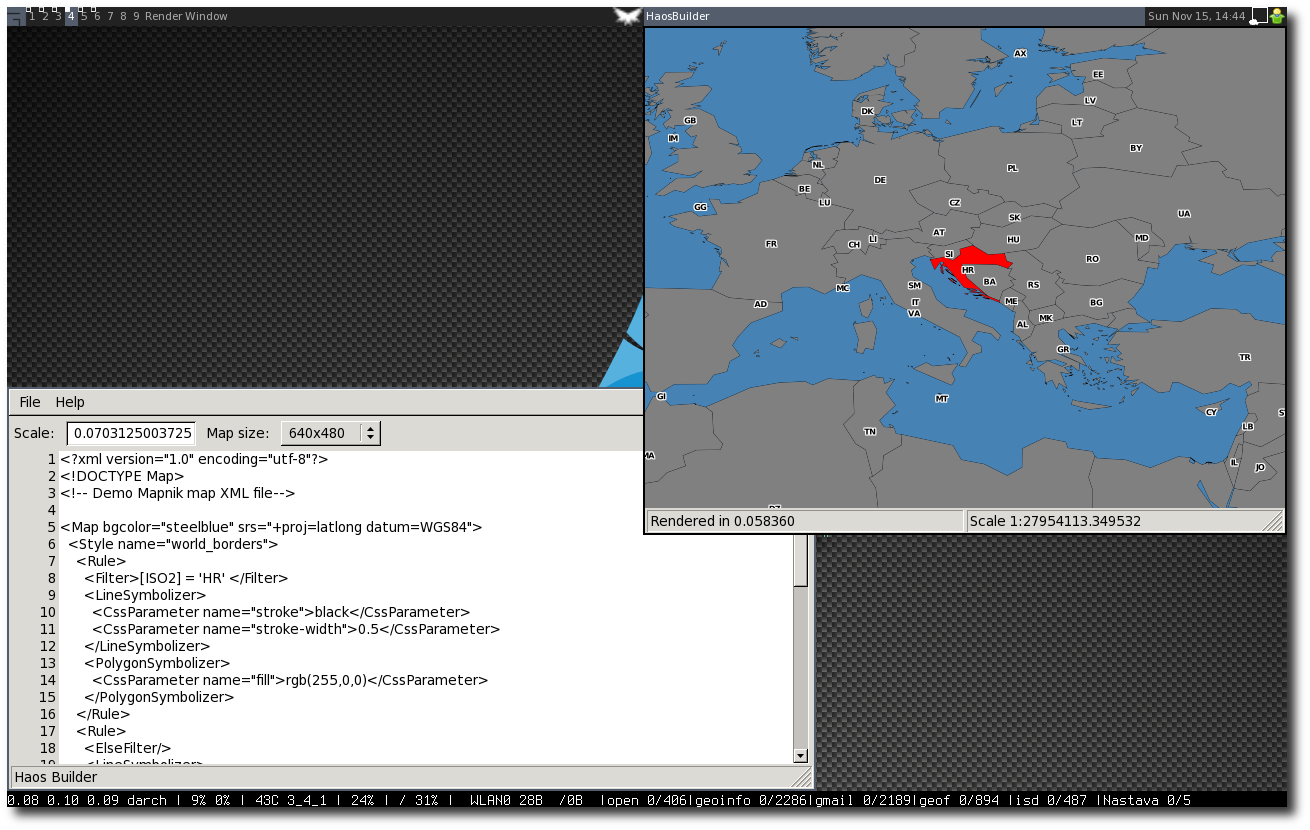 HaosBuilder

Python/wxPython aplikacija koja omogućava brzu izradu Mapnik xml-a za definiranje karte, uz mogućnost brzog rendanja karte.
OSM
RV GIS SIG