FOSS4G 2016 Weekly Updates (obsolete)
Jump to navigation
Jump to search
The printable version is no longer supported and may have rendering errors. Please update your browser bookmarks and please use the default browser print function instead.
More recent updates can be found on FOSS4G_2016_Meeting_minutes
== Update 09-04-2015 ==
1. Planning Meeting in LUXX see minutes here: minutes
2. Liability Steven Feldman (Chair F4G 2013) worked hard to fix an agreement between OSGeo and us. For now, it's in the discussion of the Conference Committee, afterwards it's going to the board. The good thin is: This agreement will be aprt of every following F4G, so that point is in general clearance. Find the draft here
3. Finances Torsten and Till had a meeting on this last tuesday. We agreed to make a monthly preview on finances from now on. We also agreed, that earliest time we need to send bills to sponsors is by 31.01.2016 - no one will really want to pay for something in the next year. If there is any sponsor willing to pay earlier, we of course can send a bill in 2015. For the next month there are only minor payments, which will not exceed 15k Euros, should be covered by OSGeo seed money.

== Update 08-28-2015 ==
1. Liability I made kind of risk analysis and passed this over to OSGeo conference committee. Outcome is, last chance to cancel without a financial disaster is 2 month before the event - a case, that won't happen. Based on the numbers, I asked OSgeo for a financial backup of 100k and also for seed money of 50k. To whom is interested in this, I've created a folder in SVN called "foss4g/budget_planning" and put the sheet with the calculation in there. I talk to Steven Feldman from conference comittee next thursday via skype to get that fixed.
2. Finances We want to divide normal FOSSGIS finances and FOSs4G finances with a new, seperated bank account. As long as the local court didn't update the register of associations and put my name in, I can't open a bank account for FOSSGIS e.V. without having Marco Lechner with me, because he is the only board member, that already is listed in the register. To save some time, the board agreed to use FOSSGIS bank account for now and switch that, when the local court changed the register. We already applied for speeding that up, but this may take some more weeks. For now, we can use the existing bank account of FOSSGIS e.V.
3. Time Table I ha d ameeting with Uli this week and we set up a rough time table for major milestones. Uli will come back to the responsible members of LOC soon and tries to coordinate, whether they agree with our plannings.
4. Movie for Seoul Same day, after Uli I met Olaf and Carmen and we agreed very fast in a kind of script for the movie. Olaf already started with the beginning and it already looks very promising. To be continued next week. We also agreed in buying some music from free artists (not more than a hundred bucks), so we can place the movie whereever we want and don't have to be afraid of the Society for Musical Performing and Mechanical Reproduction Rights. Maybe this movie sets also a new standard for upcoming FISsG-events ;-)
5. Marketing Material for Seoul I still wait for a reply of our PR&Marketing team, whether the postcards are enough for Seoul or if they plan to have more. The remaining timeslot to realize other things is already very, very small. (In german we say "Zaunpfahl" (fence post)
6. FROSCON Last weekend near Bonn the 10th FROSCON (https://www.froscon.de/startseite/) took place. This is the largest german speaking Open Source conference, they had around 2000 attendees (!). The outcome was phantastic, within 45 minutes I talked to several people: - I met guys from Freifunk movement () and talked to them, how we could improve the free WLAN "Freifunk" especially on FOSS4G spots like bars and so on - in WCCB and also Basecamp we are served. Issue is in motion - I also talked to a guy from FSF Europe. They had a stand there and also are located in Bonn. We should think about giving them some space for a stand on our conference as well - I talked to a guy from Deutsche Welle, they are located in the neighbourhood to WCCB. I asked for workshop rooms. They offered 2/3 rooms, Carmen and me are going to see them next wednesday. Same day we visit GSI (Gustav Stresemann Institut). - Last I went into the conference office and talked to the organizers. Next FROSCON will be 20./21. of August 2016 - this is the weekend before our event. Probably we might get them to emphasize the geo-theme somehow. With that we could attract ttheir conference under the Geo-Summer roof, also might be that some of our attendees will come a few days earlier and also take the FROSCON. FROSCON is free of fees. Perhaps we also can coordinate in prints and tshirts and whatever to reduce costs. The chair will contact me the next weeks, after he mastered his usual after-conference burnout. - Froglabs: Defenitely an idea to strengthen our "family program": https://www.teckids.org/froglabs_2015_froscon.htm
7. Hacking Weekend Astrid and Uli are planning a pre-conference hacking weekend inside BaseCamp. QGIS and MapBender are interested right now. I've also contacted the OpenLayers guys. If we can fill all beds inside basecamp, there are no extra costs for room rent. The only thing I'd like to have, is that the projects care for a potential loss and don't stress our conference budget. I indicated them to the possibility of a funding by FOSSGIS and/or OSGeo.
8. Volunteer programme We discussed thi issue to have students and to deal s.th. like 50% work and for the remaining time free access to the conference. This will cost us money, because I heard, that also volunteers want to eat and drink. So this would cost us about 150.- per volunteer for catering. On the other hand, I've seen, that our PCO offered hostesses for welcome desk, coadrack and so on. The calculation is easy: For hostesses we would pay 5.5k, for 30 volunteers (and I don't think that we need that much) we would have costs of 4.5k. We have to discuss this further and really look, how many volunteers we need.
9. Mail <name>@foss4g2016.org I've created a directory with most important contacts. I can pass it as VCard if wanted. In case you want to use this, please contact me directly.
10. Planning Meeting Next FOSs4G planning meeting is next wednesday, 2.9. at 19h30 in LUXX in Bonn!
== Update 08-21-2015 ==
1. Hompeage Yes, F4G 2015 is coming up. Afterwards we are in the spotlight. Carmen and me went through the webpage and discussed, what to do until Korea. Carmen summed this up and sent it to Anja, our homepage-angel
2. Liability I am doing a lot of work to get together some numbers and calculation in order to have a base for a risk-estimate for the case, what expenses will come up, if we cancel / have less than the break even attendees of ~650. With this, OSGeo board will decide, up to what level they will stand for liability. If there is a gap, we have to insure us elsewhere.
3. Bonner GeoSommer Already passed some informations on that this week. More to come on a seperate WIKI page later.
4. legal status Not cleared yet, although the 4 weeks deadline for finance office is over for some weeks. I work hard to clear that up, but it's holidays time....
5. Timetable Uli and me will start to make a first rough time table for the whole event(s) and also for some major ToDo's for the working groups on monday.
6. Workshop-Facilities We have quite good chances to get some rooms inside BIT, a university facility with nice rooms which is very close to WCCB. Again, it's holiday time now...
== Update 06-29-2015 ==
1. Logo and Hompeage Yes we have. Since FOSSGIs hacking weekend, we have a (not announced) homepage already running on 2016.foss4g.org We decided not to go through a community voting with the logo. we had hard discussions about it this weekend and in the end at least 20 people from FOSSGIS agreed with the shape and OSGEO-green. We want to add an OSGEO-logo directly on the starting page in order to show everybody, that this is an OSGEO-event.
In the moment minor changes on logo and website are still possible, but we can start to fill it with content - and we can start to offer sponsorship! Requests for changes could be sent to Till at least until wednesday, as the Küstenschmiede guys want to finalize logo and page on thursday.
2. Chairs also on our meeting this weekend (http://wiki.osgeo.org/wiki/FOSS4G_2016_Meeting_minutes) we've occuopied our free chairs. We welcome all volunteers to our team!

3. Volunteers-Programme With Katja Haferkorn we have a really realiable chair for the volunteers programme. We've also had the idea to offer a contingent for students with free entrance, if they are wanting to help with coatrack, conference office, general track management, help desk and so on, theymight get a free ticket and share their time with attendance of conference and help the LOC by 1/3 - 2/5 or 50:50 or sth. like that.

4. Kindergarten We all get older and have families, children.... In order to enable people having their children with them to have full participation we thought about offering chdrens mentoring programme. We might get a room (and also have the garden) in WCCB, so that people might come tih children, leave them there and get them back in the afternoon. Also Katja wants to get in contact with some organisations offering such service.

5. Family weekend Taken over from the Dublin proposal, there was the idea of having a family weekend before. We thought about cancelling that idea and instead of that we offer a kind of alternative program for families. Till will ask at Bonn Tourismus whether they can make a kind of programme for that with field trips and so on, where partners with/without children might participate during the event.
== Update 06-19-2015 ==
1. Workshop Rooms Uli and Astrid pointed us to Gustav Stresemann Insitut as location for workshops for reasonable prices. The location looks quite interesting, we would have to borrow hardware but we could run the workshops at one place. -> http://www.gsi-bonn.de/ Carmen works on that.

2. Email Adresses Finally Marco registered the domain "foss4g2016.org" which now also points to our Jiffy Box. Sebastian, our administer will setup an email-server on this soon, so everybody in the LOC gets a personal email account. /Done - if no email received or need an account, please contact me

3. OK Lab Bonn I joined the OK Lab Bonn meeting yesterday in the city hall and presented my idea of having s.th. like pre-conference hacking workshops. This is for now just a rough idea, but up to now, I've got one feedback from Damian, who evinced his interest. This idea should be filled by more....

4. Logo & Marketing This is kind of double windmill. I'd like to have homepage, marketing material and so on ASAP, but without having a logo or at least some fixed colors, this makes no sense. On the other hand I'll possibly meet Nicolas Bozon from Geolabs in Como, who would like to help us with that. But I'd also like to have something in myh ands to promote FOSS4G 2016 already in Como. Also I have a friend here in Bonn, who works in that field and with who I talked about the logo issue. Every idea to get out of that circle welcome!

5. Chairs Update see http://wiki.osgeo.org/wiki/FOSS4G_2016_Chairs

6. Volunteer Programme Jeff pointed me to this. On other conferences there was a broad volunteer programme and we just started the discussion, how to attract students for doing some work during the conference. I got back to old university contacts - waiting for reply. Anyhow there is a string need for a chair for this ... anybody without a hat out there?

7. Ice Breaker Much discussions on that point in the past days. I'd like to fix the location by end of next week (26.6.2015) - what also means, that I cancel our opportunity for the Botanical Garden. Last chance to express your doubts via the mailing list!

== Update 06-08-2015 ==
1. Basecamp Bonn
Friday I was in the basecamp Bonn, the self-named "the coolest place in the world". And -yes it's a cool place. It's a youth hostel, accomodation starts from 25€/night. Beds are in caravans and a sleeper inside a hall. The place is very close to WCCB. People are cool there and I blocked the full capacities from 23. till 27th of August 2016, which are, depending on single/double distribution range between 50-70 beds. This goes over the official Bonn Tourismus, so that people stying there also receive their free public transport ticket. There is a cafe and WLAN inside. (pictures see below)

2. Ice Breaker
I visited the Botanical Garden last week. The place is great - if the weather is good, if not, we have problems. Also we would have to make everything on our own, caterer, toilets, security. Therefore I also talked to the basecamp-guy last Friday. We could make the Ice Breaker there, they have a great ground outside and they would do the full catering. People would pay on their own, which would take some pressure from our budget. This is more "rudimentary" while the Ice Breaker in the botanical garden would be more "precious". I would favour to go to base camp, any opinions on that? (pictures see below)

3. Pre-Business Meeting (or s.th. like that)
Last week Carmen and me visited potential workshop rooms inside IHK. The problem with these rooms is, that there are two workshop rooms with a capacity of less than 20 and one lectue hall for about 60 but no hardware inside. We want to get in contact with the technic-guy to ask how strong the WLAN is, because my guess it, thati it might be to weak for the workshops. LAN is difficult, as there is only internal LAN for the IHK. So (I personally think, that for two workshops there is too much to do and I would favour to look for other workshop opportunities. But, as IHK offered us the rooms for free, we might think of making s.th. like a "business pre-conference", where we invite companies (or include the participation on that event in the sponsoring packages) and give the companies room to present their company in e.g. 15 minutes-slots. Also we can give room for "free talk" between the companies in the afternoon. That's partwise what Boundless did on their partner meetings, but that way, it would be open also to non-boundless partners ;-) The goal is to give the companies the chance for international networking inside our business. But, as said, that's just a quick idea to be discussed.

4. 1st LOC team meeting
Wednesday, 10th of June we meet in LUXX (NOT NYX!!!) Bonn at 19h30

5. Shots from Base Camp
Inside Base Camp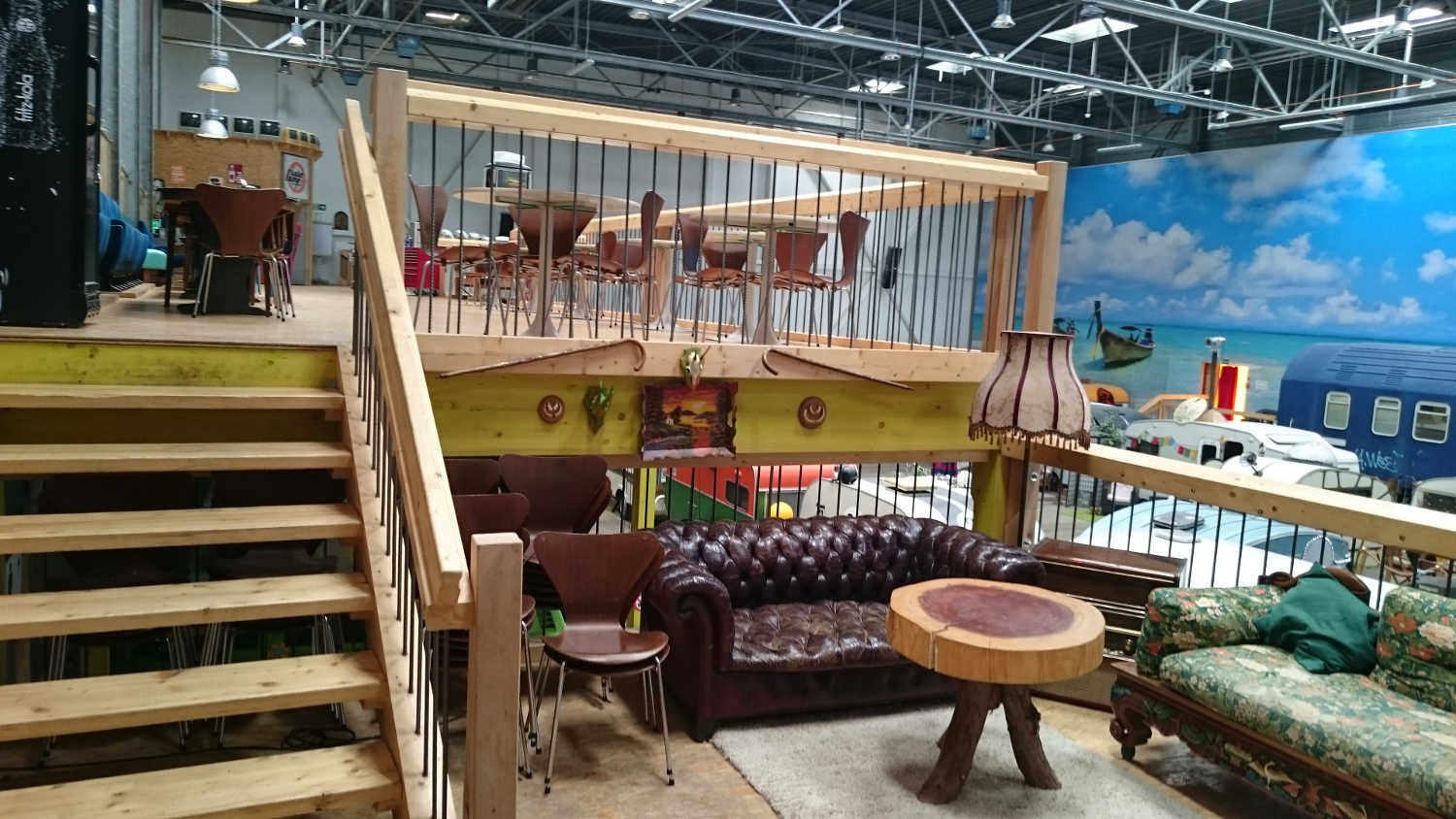 Inside Base Camp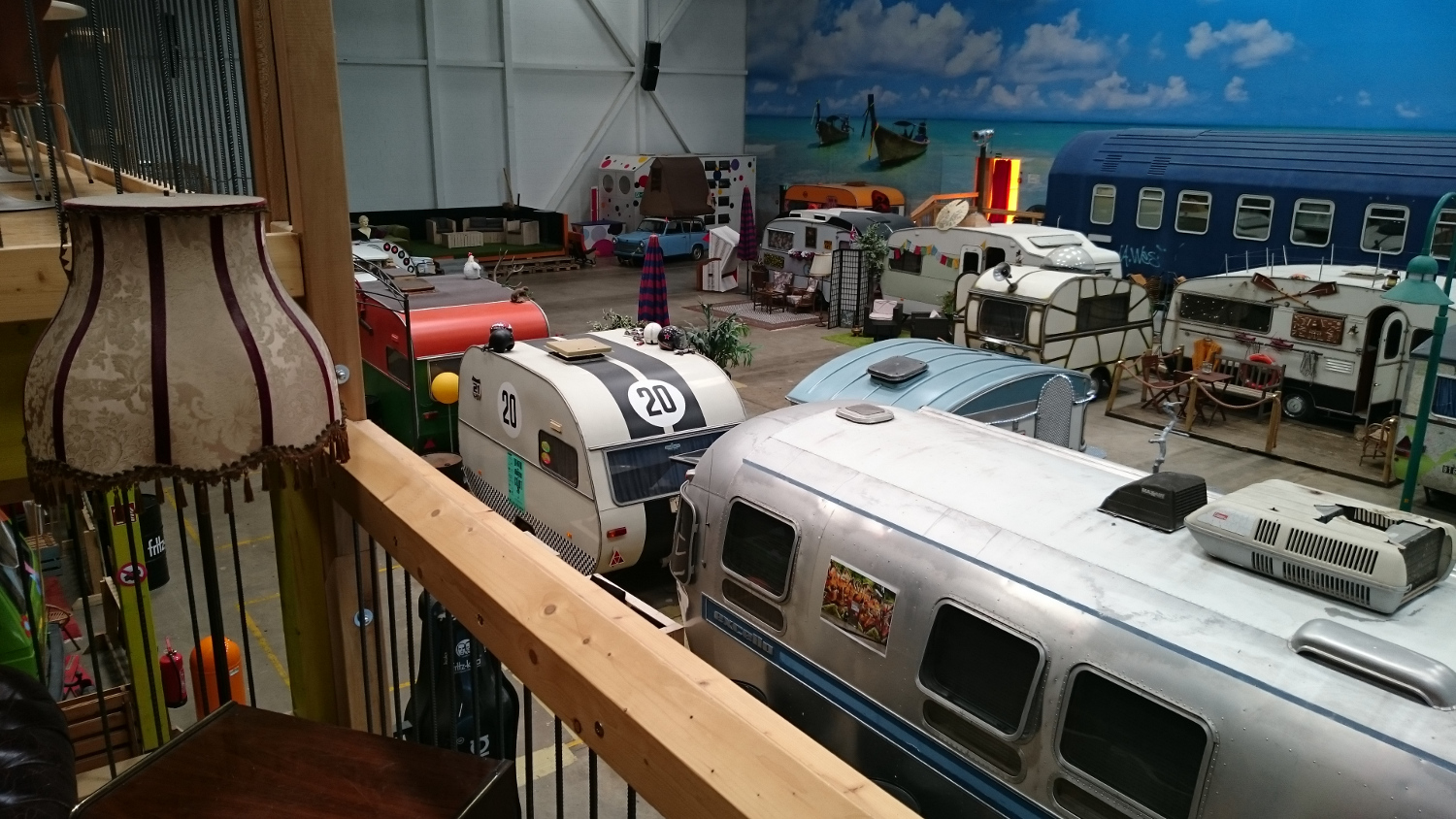 Outside Base Camp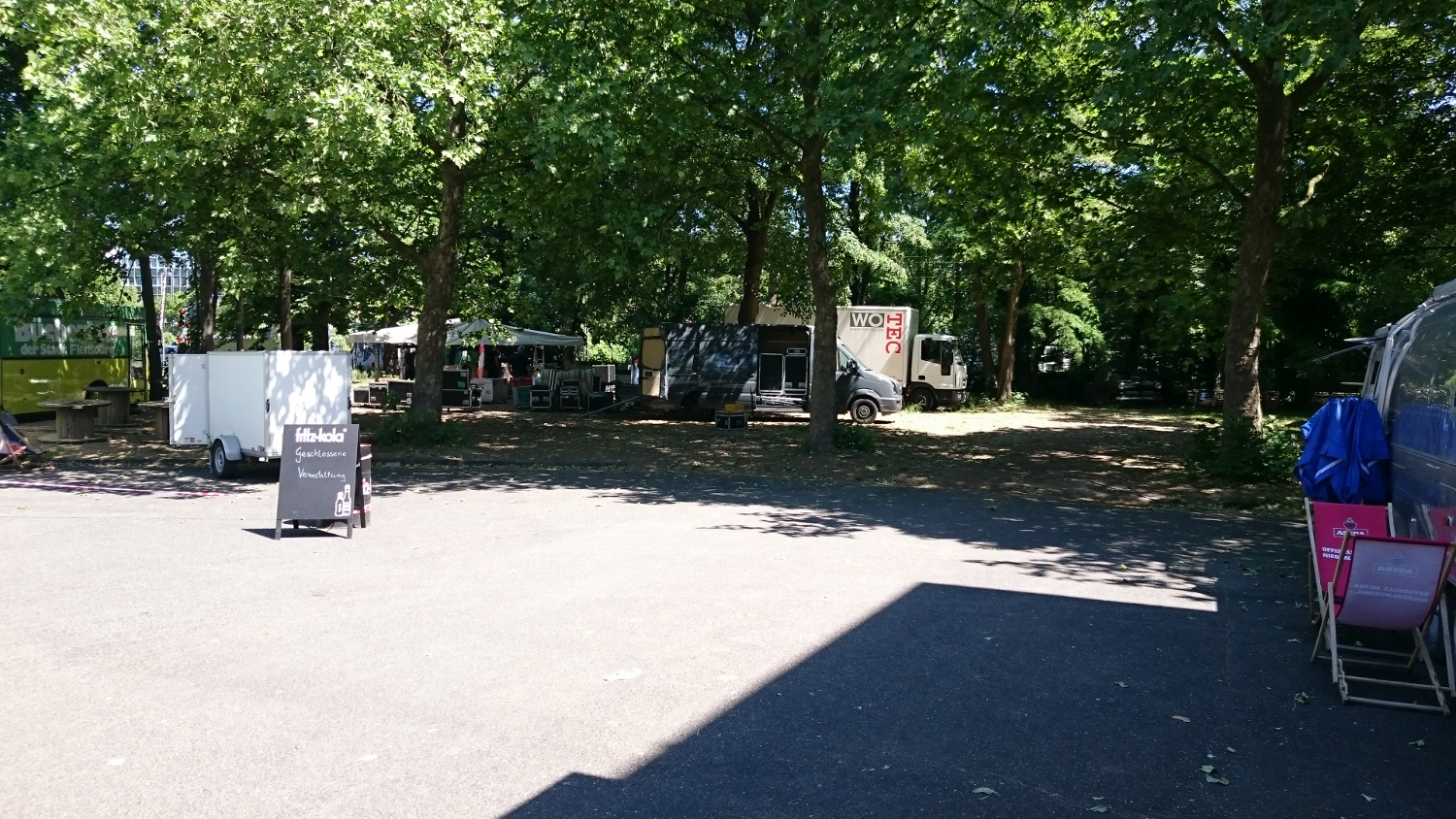 Outside Base Camp