Geodata Licensing
Jump to navigation
Jump to search
The printable version is no longer supported and may have rendering errors. Please update your browser bookmarks and please use the default browser print function instead.
This is a project started by the Public Geospatial Data Committee
The right to reuse and redistribute publically accessible bodies of data needs to be clear. This group can help provide guidelines for public geodata licensing, both of community-contributed and state-collected bodies of data.
Focus
Provision of clear guidelines for licenses, and the implications of their uses, for people contributing data to geospatial web / GSDI efforts.
Potential work on a draft LPGL license to complement the draft PGL.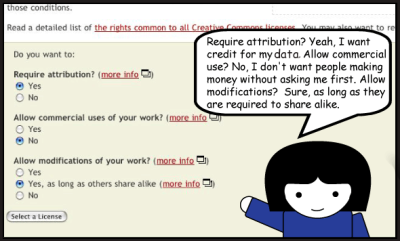 Participants
Geodata Licenses
Public Geodata Licence
Canadian Unrestricted Use Licence
Creative Commons
References
See Also