KPI's and AWStat data
Jump to navigation
Jump to search
Key Performance Indicators (KPI) are metrics used to quantify strategic performance of an organization, company or even a website. They can reflect and indicate areas of success or failure within it.
To define an organization's KPI's, an interesting way is to link them to the acronym SMART, therefore good KPI's are usually:
Specific
Measurable
Achievable
Result-oriented or Relevant
Time-bound
OSGeo's Preliminary KPI's
In order to obtain OSGeos' KPIs the chosen source of information is AWSTATS, a web analytics FOSS that provides pretty interesting data. On these slides, it may be easier to understand.
So, for starters the KPI's that show OSGEO's performance are:
Unique Visitors
Visits (duration)
Pages (most viewed)
Most searched for Keywords
---
Unique Visitors
A unique visitor is a metric that describes a unit of traffic to a Web site. It counts a visitor only once in the time frame of the report. This statistic is relevant for the marketing committee as a measure of a site's true audience size**.
The data for January 2008 Shows that from that month there has been considerable growth in audience. What is the reason for this? Please input your ideas in the box below the chart.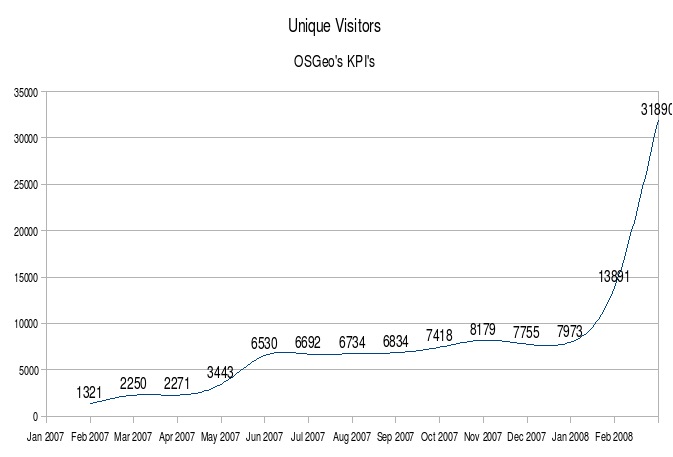 * Idea 1
* Idea 2

** True Audience Size: Note that the data from the first months of 2007 are not 100% yet
---
Visits (duration)
This metric shows the length of time users are in the website. The chart below shows the users who stay in the website for less than 30 seconds.
What can be done for users to stay longer? Please input your ideas in the box below the chart.
* Idea 1
* Idea 2

---
Pages (most viewed) - In January 2008
This is not as measurable as the KPI's mentioned earlier but it is an important information to have as it shows what are the users more interested in the website, or what they can use. This is a place in which we can discuss on weather to improve to get closer to the objectives of promoting OSGeo.
---
Most searched for Keywords
| | | |
| --- | --- | --- |
| Keyword | # of Searches | % of total Searches |
| mapguide | 3557 | 12.5% |
| osgeo | 1444 | 5% |
| mapguide open source | 1061 | 3.7% |
---
Conclusions
I february we can observe a significant growth in unique visitors to OSGeo from 13,891 in January to 31,890 in February 2008. That means that the audience has more than doubled in 1 month. A successful result.