Tyler Mitchell
Jump to navigation
Jump to search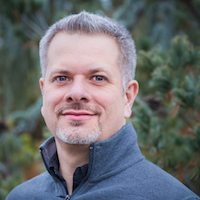 Hi, welcome to my users page. I work for the NoSQL database company Couchbase (and formerly in Big Data analytics at Actian/Ingres), focusing on product marketing.
I'm proud to have launched Locate Press several years ago, as the first published focused on open source geospatial topics! Gary Sherman now owns and runs it but we continue to partner on the occassional project, the latest being Geospatial Power Tools which does a deep dive into using GDAL/OGR! Check out the other dozen or so new books that are available .
---
A brief look at my OSGeo-related past... I originally proposed the idea of OSGeo back in 2004/2005. When Dave McIlhagga and Gary Lang put their support behind it, the effort really took off, bringing in dozens more open source geo project leaders and communities. As OSGeo's Executive Director (2006-2011) I ran the day to day operations and together we all kept moving open source geospatial technology to the forefront. Another way I was doing this was to get quality book/training material into the marketplace. After my book (Web Mapping Illustrated) was published in 2005, the need for such support material has become even clearer - business, government and academia (as well as professionals in general) all need high quality material that is reliable in the long term. Learn more about Locate Press.
Past Events
Here are some of the events that I spoke at or represented OSGeo at since it started:
FOSS4G 2011, Denver, Sept 12-16, 2011
Rendez-vous OSGeo Quebec, Chicoutimi, Canada, June 14-15
OSGIS, Nottingham, UK, June 21-23, 2011
FOSS4G 2010, Barcelona, Spain, September 6-9, 2010
OSGIS, Nottingham, UK, June 21-23, 2010
OSGeo Rendezvous Quebec - by video
WAURISA, Tacoma, Washington, April 19-21, 2010
GIS In Action, Portland, Oregon, April 14-17, 2010
FOSS4G 2009 - Sydney, Australia - October 20-23, 2009
WhereCamp5280 - Denver, USA - August 14-15, 2009
Mil-OSS 2009 - Atlanta, USA - August 12-13, 2009
First Open Source GIS UK Conference - Nottingham, UK - June 22nd, 2009
For personal reasons I had to cancel attendance at a few events in 2008...

FOSS4G 2008 - Cape Town, Sep. 29 - unable to attend
Open Source World Conf - Málaga, Oct. 22 - unable to attend
Mobile Augmented Reality and Geospatial - Quebec City, Canada, August 28-29, 2008 - unable to attend
OSBootcamp / Geocamp - Ottawa, Canada, June 2-3, 2008 - unable to atend
GeoTec Event - Ottawa, Canada, June 2-3, 2008 - unable to attend

University of Edinburgh lecture - Edinburgh, May 4, 2008
1Spatial Conference and OSGeo UK Meetup May 2008 - London/Stansted, April 29-May 1, 2008
II Jornadas de SIG Libre, Girona, Spain, March 3-5, 2008 (invited keynote, video recorded)

Including pre/post-event meetings with Local Chapter, gvSIG team, FreeGIS book team and others in Madrid and Valencia

Kansai Open Forum, Osaka, Japan, 9 November, 2007

Including follow-up repeat of presentations in Tokyo, Japan, 12 November, 2007
I was even able to sign a few books at the O'Reilly.jp office

III Encontro Nacional de Usuários MapServer (site offline), May 9-11, Brasilia, Brazil, 2007 (invited keynote)

Various pre/post-event meetings as well

FOSS4G 2007, Victoria, Canada, 24-27 September, 2007 (keynote, organiser, BOF, AGM)
Location Intelligence, San Francisco, USA, 17-18 April, 2007 (booth, presentation in OSGeo session)
Autodesk University conference, Las Vegas, USA, 27-30 November, 2006 (booth, BOF)
FOSS4G 2006, Lausanne, Switzerland (booth, BOFs)
Where 2.0 2006, San Francisco, USA (booth, BOFs)
For other events that had or will have some OSGeo representation (presenters, attendees, workshops, etc.) events see this wiki page, this wiki category and the upcoming events list here on OSGeo.org