User:Ticheler
Jump to navigation
Jump to search
The printable version is no longer supported and may have rendering errors. Please update your browser bookmarks and please use the default browser print function instead.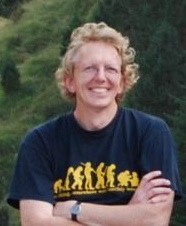 Director, GeoCat BV
Location: Bennekom, The Netherlands
Jeroen Ticheler is founder of the GeoNetwork opensource project and director of GeoCat BV, a company delivering services around open source geospatial software with a focus on geospatial metadata catalogues and Spatial Data Infrastructures. He is a big fan, supporter and promotor of the Open Source Geospatial Foundation with strong connections throughout the OSGeo community.
Read more details on his LinkedIn profile.
OSGeo Experience

Founder and chair of the GeoNetwork opensource project.
Organizer of the yearly Bolsena Code Sprint in Italy where developers of different OSGeo projects and other FOSS4G projects gather to collaborate, initiate new projects and share ideas and experiences.
Served on the Board of Directors of OSGeo in 2007-2009.
At present moderately active on the Marketing Committee and Incubation Committee
Member of http://www.osgeo.nl, the Dutch language Chapter of OSGeo
Participated in writing a proposal to host the FOSS4G conference in The Netherlands in 2010
Actively following what's going on in the OSGeo Community
Always promoting and supporting OSGeo's mission at customers, conferences and other gatherings by talking, giving presentations and workshops
OSGeo Associate Sponsor through GeoCat
Contact

Email: Jeroen.Ticheler@GeoCat.net
Phone (work): +31681286572
Spoken Language(s)

Dutch, English, modest Italian and French
Profile last updated

21 June 2012