FOSDEM2016
Jump to navigation
Jump to search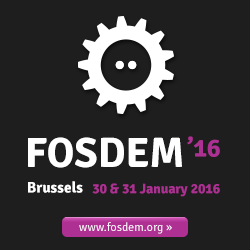 OSGeo presence at FOSDEM 2016
FOSDEM 2016 had been once more a widely attended event!
OSGeo and like-minded geospatial organisations jointly took part to the Geospatial Devroom. Follow the links of the presentations to read the abstracts, download slides and browse related material.
The video recordings of the talks are available on FOSDEM website. Do check two reports with pictures and links, from Johan and Madi.
Organisers
The devroom was coordinated by Johan Van de Wauw, with the help of a bunch of geo-enthusiasts.
Feedback on the event can be provided to fosdem-geospatial at gisky.be.
Next year: FOSDEM 2017
Continue the geospatial devroom tradition!