FOSS4G2008 Exhibiting
Jump to navigation
Jump to search
Free and Open Source for Geospatial 2008
See the conference website for more information and to see current sponsors.
If you would like to sponsor or exhibit...
...please download the Prospectus or contact Magda (mroos at geoscience dot org.za)
FOSS4G Exhibiton Floorplan showing Exhibitors as of 31 August 2008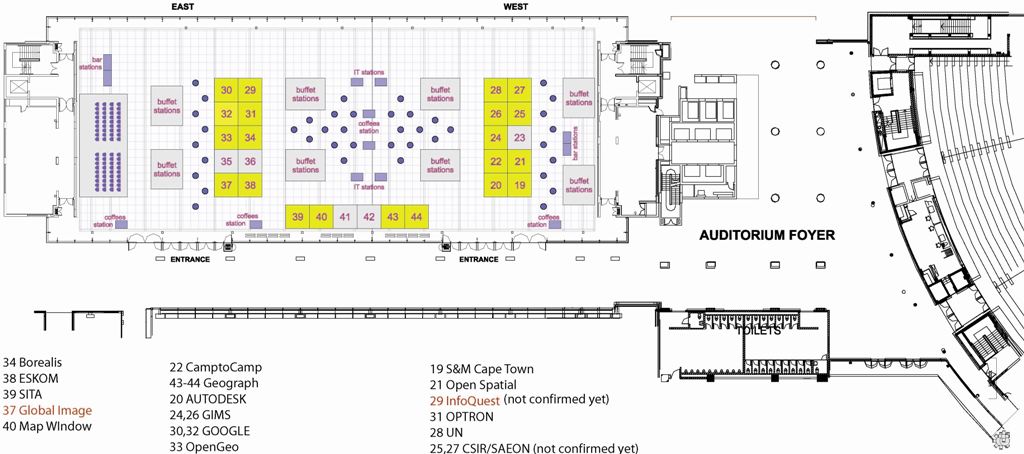 Unassigned and pending: ESRI+52North, GISSA, OsGeo
Note that we can add more stands as necessary along the wall at the top of the diagram, so if you would still like to exhibit, we can accommodate you.
Note also that the Opening Icebreaker cocktail evening on 29 September for all delegates will be held in the exhibition hall immediately after the opening plenary.
Details from the Prospectus
HOW TO EXHIBIT Two-and-a-half days of face-to-face floor time during the conference, with lunches served in the exhibit hall and frequent breaks for exclusive exhibition time provide lots of opportunities to connect with attendees. The International FOSS4G events attract participants from around the world, and exhibiting is an excellent chance to connect directly with local, regional and international clients.
Allocation
Exhibition stands are part of the benefit package for Premier and Platinum sponsors. Priority will be given to other Sponsors to purchase exhibition stands at full cost. Thereafter stands will be sold on a first come-first served basis. To achieve a larger stand size, adjacent stands can be purchased.
Exhibitor Space Rates
Commercial 3m x 3m booth R20 000 (~USD2667)
Government / Nonprofit / Universities 3m x 3m booth R15 000 (~USD2000)
Included
Shell structure booth with 1 X 15A power point (South African 3-point, please bring your own adapters)
Fascia board with company name
1 table, 2 chairs
2 x 150W spot lights
1 x full conference registration (excludes workshops)
1 x exhibitor registration (access to exhibit, refreshments and lunches only)
Invitation to cocktail party
Listing in conference program
Listing on the conference web site
24 hours site security