Marc Vloemans
Jump to navigation
Jump to search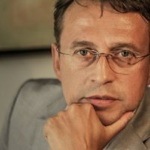 Professional
I am an accomplished marketeer & market developer & evangelist for open spatial IT. Through presentations, lobbying, books/articles/blogs, start-ups and the like I have contributed to the dissemination of OSGeo-projects - such as PostGIS, GeoServer and OpenLayers - among end-users and decision makers.

Present
Interim & Consultancy Business Development and Marketing
Lecturer Ebtrepreneurship, International Management, Marketing
Past
Director Sales&Business Development Boundless Spatial Inc.
Chairperson Foundation for Software Reuse (The Netherlands)
OSGeo Experience
Chair Marketing Committee OSGeo.org (present)
Board Member OSGeo.NL (past)
Member LOC FOSS4G 2016 Bonn
Chair Bidbook FOSS4G2010 Amsterdam

Open Spatial IT trackrecord
Entrepreneur: B3Partners (Director/Owner 2000-2011) & OpenGeoGroep (Initiator & Trailblazer, 2007, open spatial SME joint venture)
Books: 'Open Source Inside' & 'WebGIS' (waiting to be translated into English)

Ambition for OSGeo.org/nl
To complement the existing strength of/within the Foundation with my technical-commercial qualities to further the cause of OSGeo.org.

Contact
Email: infoATmarcvloemansDOTnl