MoU OGC
Jump to navigation
Jump to search
In Valencia, Spain, at the December Technical Committee meetings of the Open Geospatial Consortium, Inc. (OGC), the OGC and the Open Source Geospatial Foundation (OSGeo) signed a Memorandum of Understanding to coordinate in advancing open geospatial standards (OGC's mission) and Open Source geospatial software and data (OSGeo's mission).
Download the PDF (file size: 123 KB, MIME type: application/pdf). Find more information about OSGeo signs Memorandum of Understanding with OGC.
Memorandum of Understanding
This Memorandum of Understanding (MOU) is entered into as of December 1st,2008 between Open Geospatial Consortium Inc. (OGC), with offices located at 35 Main Street, Suite 5, Wayland Massachusetts. 01778-5037 USA; and the Open Source Geospatial Foundation (OSGeo), with offices located at 422 Richards Street, 3rd floor, Vancouver, V6B 2Z3, BC, Canada.
Recitals
A. The OGC is a not-for-profit organization founded in 1994, and comprised of industry, government and academic members dedicated to advancing interoperability among IT systems that process geo-referenced information.
B. The OSGeo is a not-for-profit organization founded in 2006 whose mission is to support and promote the collaborative development of open source geospatial technologies and data.
C. The Parties wish to make sure that open standards are made freely available to the global public; unencumbered by patents or other Intellectual Property claims that may diminish their usefulness.
D. The Parties wish to memorialize their understanding regarding certain joint activities in which they plan to engage.
In consideration of the benefits anticipated from entering into this MOU, the Parties agree as follows:
1. Work Program.
Exhibit A describes the work or activities in which the Parties agree to engage (the "Program"). The Parties agree to work in good faith to carry out the Program until such time as it is completed or this MOU is earlier terminated, as provided in Section 5.
2. Representatjons and Warranties
Each Party represents and warrants to the other that (i) it has due authority to enter into and perform this MOU, (ii) its performance of this MOU will not conflict with any other agreement to which it is a Party, and (iii) its performance of this MOU will not conflict with its intellectual property rights ("IPR") policy, or with any other policy or obligation binding upon it that relates to IPR matters.
3. Liaison
Each Party will appoint and maintain a representative to act as liaison with the other Party, and each Party may deal exclusively with the liaison appointed by the otller Party if it so chooses, except as otherwise provided in Exhibit A. The initial liaisons are listed on Exhibit A.
4. IPR and Confidentiality Policies
Unless otherwise specified in Exhibit A. (a) each Party agrees that when it is engaging in any activity hosted by the other Party, the policies of the other Party regarding IPR and confidentiality that Party will be binding upon it, (b) in the event that the Parties engage in any activities jointly to create any work product, that work product shall be jointly owned, without obligation of accounting one to the other, and no license rights are granted by either Party to the other solely by reason of entering into this MOU, and (c) each Party will treat all materials supplied to it by the other Party that have been designated in writing as being confidential, FOUO, or otherwise non-public, in a manner consistent with such designation.
5. Term and Termination
(a) This MOU shall remain in force for one year from the date of signature, and will automatically renew on an annual basis until terminated in writing by either Party. (b) This MOU may be terminated (i) at any time without cause by either Party giving not less than 30 days notice to the other Party of its desire to terminate, and (ii) on ten days notice without cure, in the case of the breach of a material term by the Party receiving notice, providing that the Party giving notice provides sufficient detail in such notice of the nature of the breach to permit cure (except that where the breach, by its nature, is not susceptible to cure, termination shat! be effective upon the giving of notice). (c) All rights and obligations under this MOU will cease on termination, except for those referred to in Sections 2, 4, 6, 7, 8 and 9, each of which shall survive indefinitely.
6. Notices
All notices sent by a Party under this MOU shall be sent by email to ·the address ofthe other Party's liaison, and shall be deemed to effective when sent. Each Party shall inform the other Party of a Current email address for its liaison at all times.
7. Costs
Each Party shall pay its own costs and expenses with respect to its activities under this MOU, and neither Party shall have the authority to act on behalf of or obligate the other Party (financially or otherwise) without such Party's prior written consent.
8. Public Statements
Each Party will make best effort to gain consent of the other Party regarding public statements related to the purpose of this MOU or the activities to be performed under this MOU.
9. Miscellanenns
This MOU (a) shall be subject to the laws of the Commonwealth of Massachusetts, without giving effect to its rules regarding conflicts of laws; (b) may only be amended in writing by authorized representatives of each Party; (c) except as otherwise specified in Exhibit A, supersedes any and all other understanding between the Parties, whether written or oral; and (d) may not be assigned by either Party without the written permission of the other Party, except to a successor to its business or mission, as appropriate.
In witness of the above, the Parties have caused this MOU to be executed by their duly authorized representatives.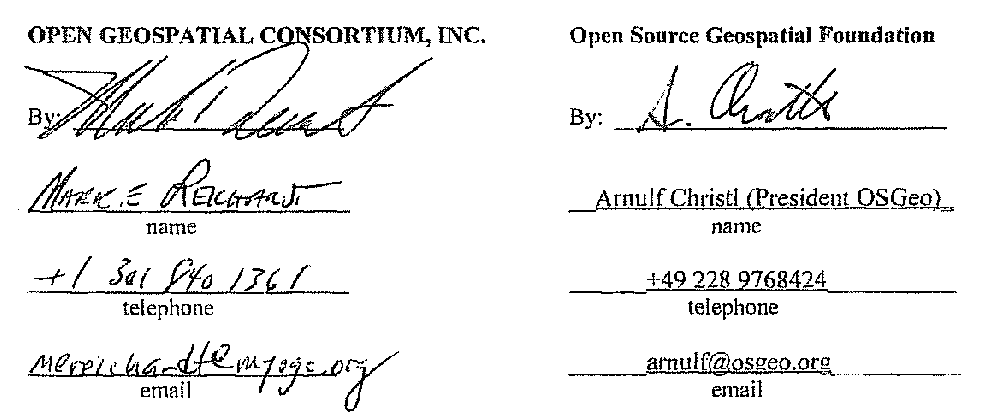 EXHIBIT A
I. DESCRIPTION OF PROGRAM
1. The purpose of our relationship is to keep each other well informed of our respective activities and directions. so that our activities may be coordinated in such a way as to maximize the achievement of our respective mission and goals.
2. The appointed liaison of each Party shall generally keep each other informed of the planned activities, future direction and proposed initiatives and work product of his/her organization.
3. To help stimulate dialog on standards topics of mutual interest, OGC provides OSGeo with six one year Individual Memberships in the OGC at no charge, to be awarded to qualifying OSGeo members based on a selection process to be conducted by OSGeo.
4. OSGeo will collaborate with OGC to identify open source technologies that can be used as reference implementations for and to validate compliance tests developed for OGC adopted standards. For those reference implementations developed by OSGeo members that: 1) pass OGC Compliance test procedures, and 2) are selected for use by OGC as a reference implementation (or are among the two additional tests used by OGC to validate the Compliance test for public use), the OGC will waive the Trademark License fee associated with Compliance certification. This fee is typically paid by the developer on an annual basis. This waiver will remain in effect for that version of software.
5. OGC and OSGeo will work closely to coordinate with OGC membership regarding new standards and standards changes that may be required as a result of open source programs.
II Liaisons
The initial liaisons and their contact data is as follows: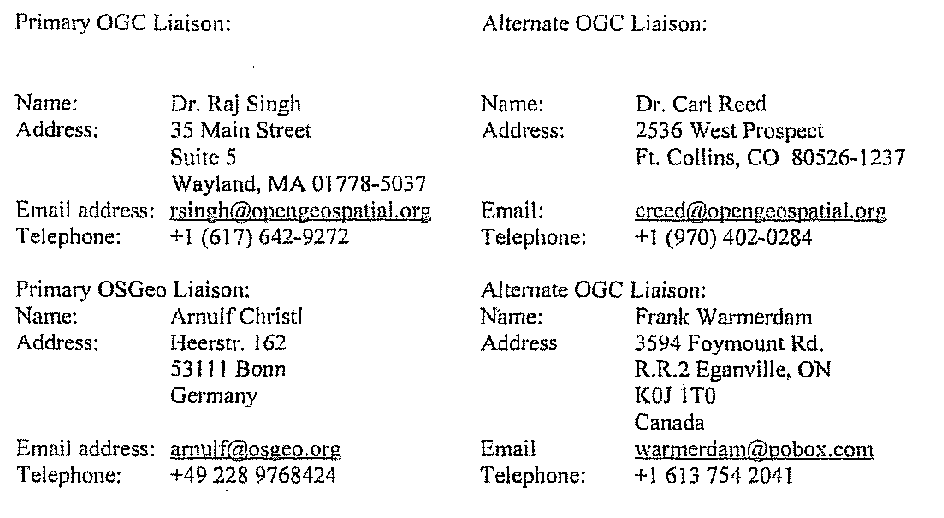 III. Other Exceptions (if any)
All organizations and individual members that hold membership in both OGC and OSGeo may participate under this MOU.
IV. Other Provisions
N/A