OSGeo-BE-general-assembly-minutes-20210518
Jump to navigation
Jump to search
Agenda AG 2021 Tuesday 18 May at 19.30 1. Approval of the minutes of the previous general assembly
The previous minute was not available on the website. Gael present it own note et propose to compile theme for approbation after it 'll be publish on website.
Approved
 2.  Report of the president / secretary

This year was really special. Thanks to Covid 19 - less opportunity with less interaction in our community. We work hard to imagine one future organisation of the foss4g-BE, our major event who's the cement of our community. Unfortunately, we receive the cancellation of all events at the BEL in September.
 3.  Report about the activities organised between Mai 2020 - Mai 2021
     Nothing organize or supported directly be osgeo.be
     Some member participation at different virtual event like:

Fosdem Begeo Other local Foss4g
 4.  Financial report 2020

Bellow all the transaction on our bank account (Triodos)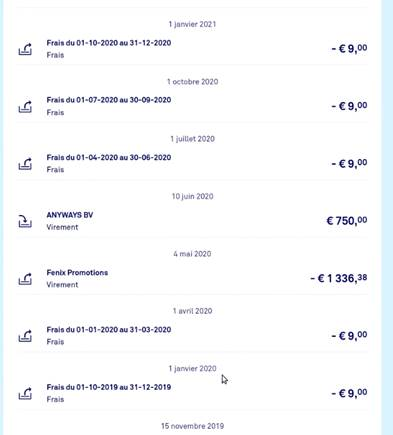 Balance = 10810€
We need to check who have access to the account and if Rita (geosparc) is still in the place, we need to revoke them.
 5.  Discharge of the members of the Board of Directors for the 2020 financial year.


Approved by Simon and Maelle
6. Preview of the events in 2021
Plan actions about activities, events, and strategy (see call for activities below) v Foss4G-BE
    We make a small survey about these 2 options


Make a Foss4G in real +1 Oliver -1 Simon Marc Make a Foss4g in Virtual -1 Oliver +1 Simon only if « in real » is not possible Marc Johan Maelle Mathieu suggest postponing our decision until we know if « in real » could be possible. We all agree and 'll make our decision at least in middle of September (we need to fix a meeting). We will wait for the last decision of Codeco to organise a meeting and make our decisions.
But we can already start and post a contact list of potential places for Foss4G => all send by mail some suggestion.
Remarks: Maelle also suggest move the usual date of FOSS4G-BE (around end October) near the Fosdem (beginning February). The reason is to use the potential international public who come for the Fosdem. No reject and no approvement, still in consideration
v Someone proposes to organise a Virtual Map Gallery to be posted on our website
v Implementation of training / knowledge sharing on OSGEO products and solutions:
Gael explain that those training could attract new member and enlarge our 'active' community A related question talk about the cost of this training… After discussion, it is conceivable to ask for a participation limited to the cost of organisation, but care must be taken not to enter into competition with certain sponsors.
v Marc proposes to organise more small (free) events to make ourselves known. These events can be supported by guests from our community
 7.  Provisional Budget 2021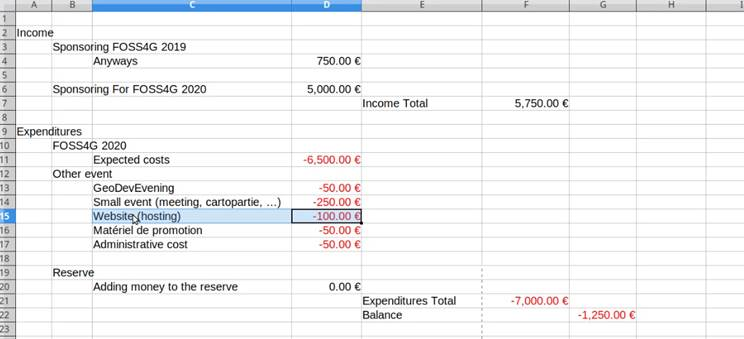 To the budget proposed above we are adding an item for "communication on social networks": 500€ Gael is in charge of collecting some quotes to be submitted in advance for approval.
  8.  Composition of the voting members
    *   New members

None
    *   Resignations

None
9.  Composition of the board
    *   New members

Term 2020 - 2023 · Marc Ducobu · Dirk Frigne · Gaël Kruwialis (President) · Oliver May (secretary) · Tommy Oozeer · Johan Van de Wauw · Roel Huybrechts (Treasurer) · Mathieu Carette
    *   Resignations

None
   10. Mandates

Oliver May (secretary)
11. Divers Maelle: Collaboration between OSGeo.be and a Free GIS training at ULB https://lists.osgeo.org/pipermail/belgium/2021-May/001093.html Approved
 12. Closing of the general assembly