FOSS4G-Europe 2014 Code Sprint
Jump to navigation
Jump to search
Code Sprint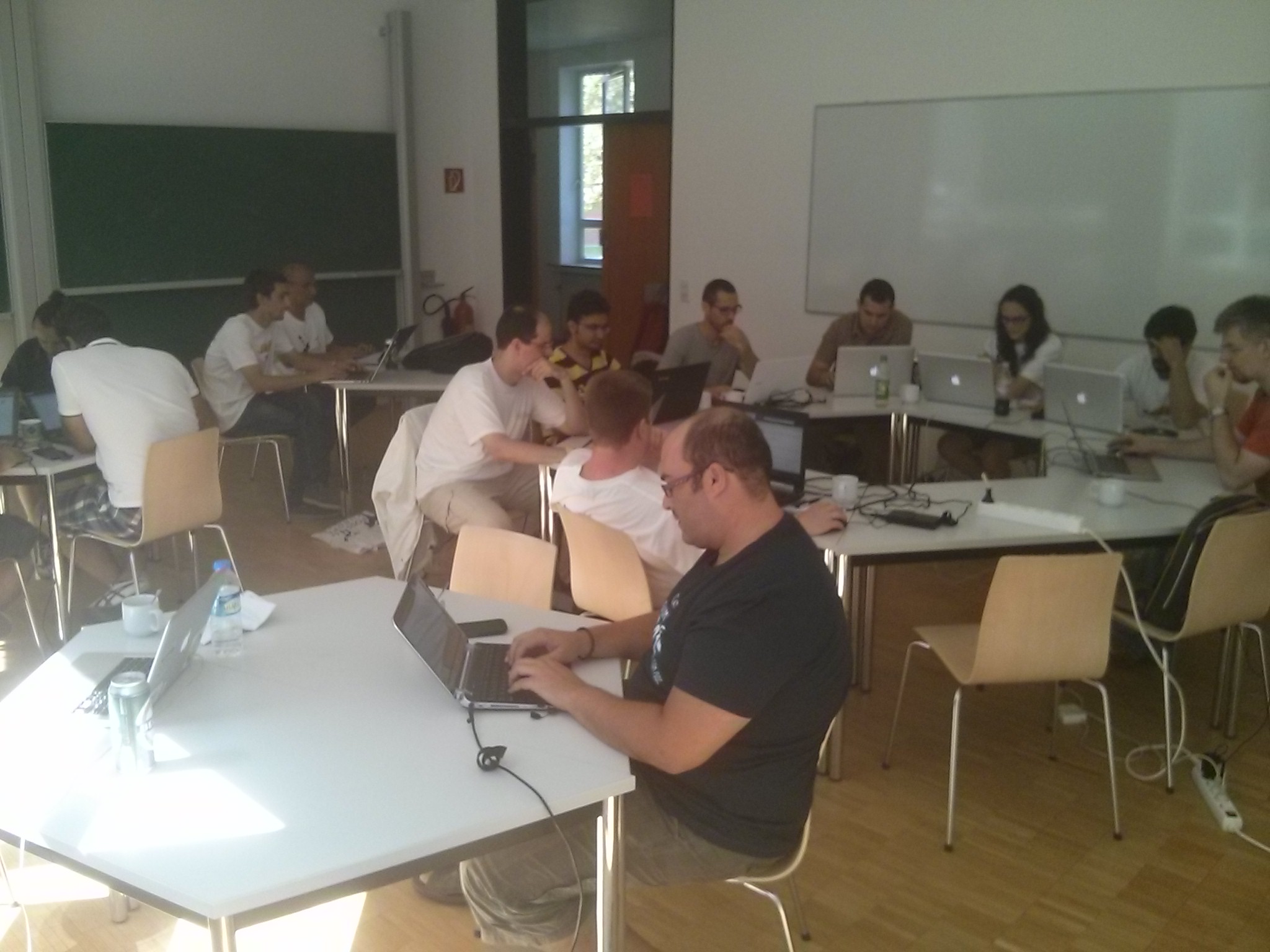 A code sprint is about getting a group together to work on Open Source software, sitting around a table and sharing ideas. It's not just about writing code, as you know a project has many needs including documentation, testing, and providing feedback. What a better way to give feedback and give back to the project that you love than to spend a day with the project's developers. There are roles needed to be filled, no matter what your expertise.
With such a short timeframe (one day) you should probably use this page to set a specific goal for your project. But don't worry, if all you get done is actually sitting at the same table with the project's developers and talking about the next release, that is also great :)
Where & When
The day after the main conference (Friday 18th July) has been set aside for the Code Sprint. There is also a plan to provide facilities throughout the event in the main venue.
Time: 0900 Location: East Hall (same room as the coffee break)
What to Bring
Computer if you have one, yourself.
How to get there
TBD
Sponsors
Questions/Comments/Ideas
Additional Interested People
The following people are potentially interested in participating in sprinting activities though have not yet established a Workgroup.
Angelos Tzotsos: OSGeoLive, pycsw
Jeff McKenna: MapServer, pycsw
Workgroups
To participate, copy a project skeleton and start a section below for your project.
Project-name
Attending:
Goals:
OSGeo-Live
Attending:
Angelos Tzotsos: OSGeoLive
Jorge Sanz: OSGeoLive
Eduardo González

Goals:
After many years of building OSGeo-Live on quality Ubuntu LTS releases, this year, the Ubuntu 14.04 LTS is not as stable. This is a pity because we have some excellent OSGeo software to demonstrate.
As such we need debugging and testing to help to get OSGeo-Live back up to the level of quality expected of it.
And we need help updating documentation and the like with updated screen shots to highlight the latest shiny OSGeo-Live products.
Everyone is welcome to join us, and we can find a job for any willing volunteer.
Sprint info
Audience: up to 10 people
Region: Jacobs University, Bremen, during FOSS4G-Europe
Projects: See upper on this page
Length: sprint will take place on 18th of July, 2014, and it will take one full day
Budget
what is the expected registration fee, if any, for each attendee? 0,- Eur
what is the expected amount of third-party sponsorships? 0,- Eur
what in-kind donations are expected (such as donated use of a conference room)? Jacobs University will provide the event with venue
what is the desired amount of OSGeo sponsorship? 250 Euro
what is the expected cost per attendee, for travel, lodging, and food? Attendees will taking part at FOSS4G-Europe, so no extra travel and lodging costs are expected.
what is the expected cost for the venue (such as conference room, wifi support, snacks, etc)? Venue is donated by Jacobs University, 0 costs
Detailed budget
Based on offer for catering (10 attendees):
Coffee breaks 20 persons:

| | |
| --- | --- |
| coffee | 40 Eur |
| tea | 15 Eur |
| juice | 20 Eur |
| cookies | 15 Eur |
| Total | 90 Eur |
Lunch 10 persons:

| lunch | 100 Eur |
| --- | --- |
Other services:

| Personal service | 22 Eur |
| --- | --- |
Total costs: 212 Eur